HerbalHoney Facial Mask
Regular price
Sale price
$25.50 USD
Unit price
per
Sale
Sold out
This facial mask is formulated with simple ingredients that cleanse, exfoliates and rejuvenates the skin. Contains natural herbs, honey and fruit powder that is biologic and anti-bacterial. Ingredients hold unique and powerful properties to soothe inflammation, fight acne, diminish blemishes, smooth fine lines and wrinkles, tone correct and even out the complexion.
Directions:

Dampen face with water, pat dry then apply the mask. Leave on for 10-15 minutes, then rinse off with warm water.
*Suggestion: Complete this mask with using our ​"Facial Seal" or Age-Me-Not" serum afterwards to seal-in moisture and keep the skin smooth. 

Key Ingredients:

Hibiscus - contains natural vitamin C and AHA (alpha-hydroxy-acids), boost collagen, ease inflammation, gently exfoliates, high in antioxidants to slow aging
Turmeric - brightens dark spots, reduces blemishes, eases redness and puffiness
Manuka Honey - natural humectant to seal in water, antibacterial, anti-inflammatory, balances PH, soothes acne and other skin inflammation, fades scars
Caution:

Contains turmeric; thoroughly rinse face, shower and counters with warm water to avoid stains. 
Full Ingredients

Honey, Turmeric, Hibiscus, Aloe Vera, Papaya
Shipping

Please refer to our shipping policy column.
Return policy

Please review our return policy.
Simple Care

Handcrafted with natural ingredients. Results may vary and are not guaranteed.
Disclaimer

Disclaimer: This product is not acclaimed or promoted to diagnose, heal, or treat any skin or other medical condition(s). Consult with your Physician for proper diagnosis and medical treatment. Before general use, perform a skin patch test by applying a small, pea-size amount on wrist to check for reactions and/or other skin sensitives. Although ingredients are natural, products contain nut, plants and fruit oils. Consult with a Doctor if you suffer or believe to have nut, fruit and/or environmental allergies. Products are not to be consumed. Not FDA approved.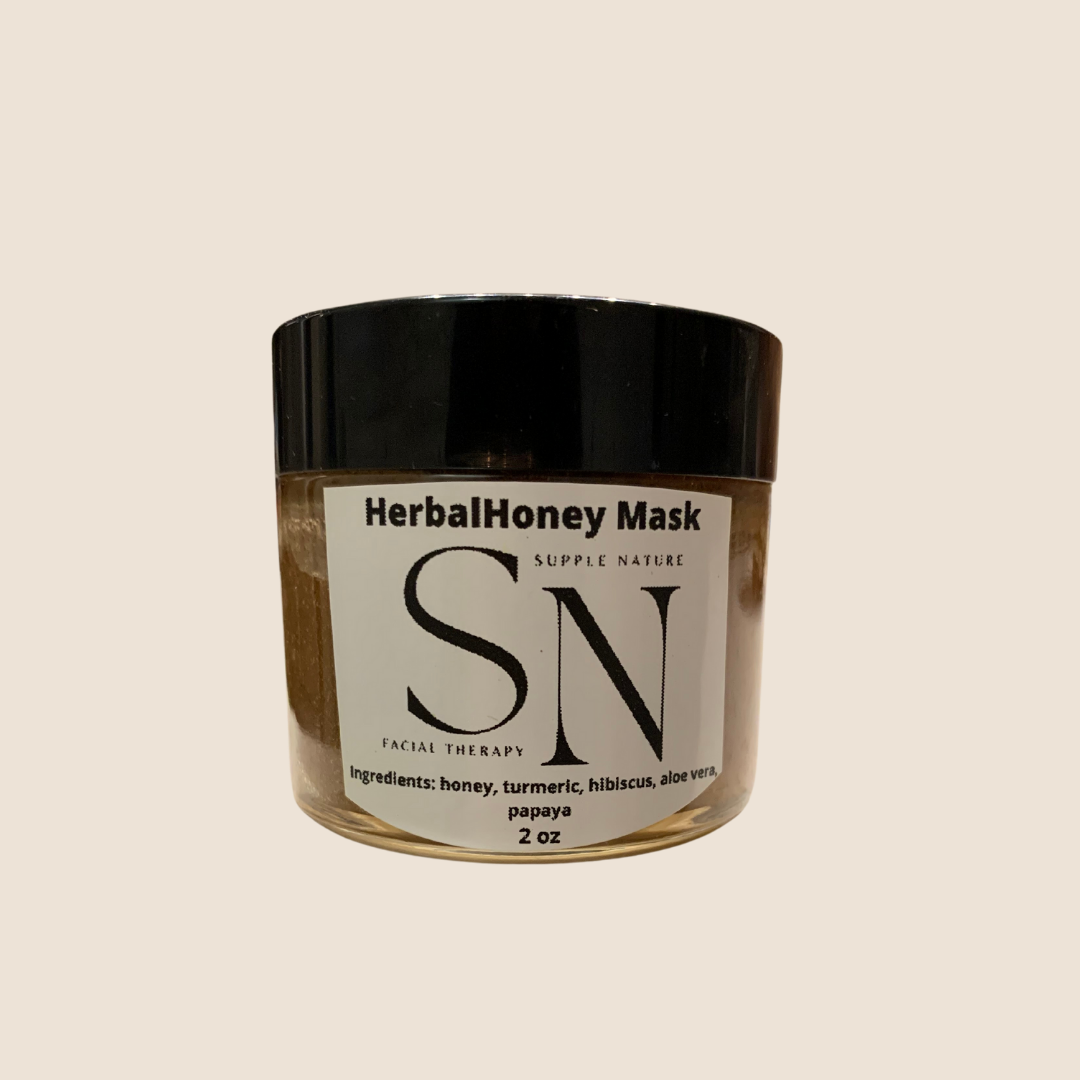 Love like honey
This face mask is just everything. The honey turmeric mask keeps my face hydrates while resolving my dark marks and giving me a healthy glow that lasts all day. I leave it on for 10 minutes every three or four days. 100% have recommended to my friends.