"In Totally" - Botanical Infused Nail Oil
Regular price
Sale price
$15.00 USD
Unit price
per
Sale
Sold out
Nails can often become brittle, leading to breakage and splitting. Poor and dehydrated cuticle beds frequently result in pesky hangnails. This infused oil nourishes, strengthens and promotes nail grow. The deep hydration can assist in protecting the cuticle bed while enhancing a natural, glowing appearance.

Repeated use of chemicals like acrylics, gels, and polish can weaken the nail causing dents, nail loss and cuticle damage. Using this infused oil that contains nutrients can revive, restore, strengthen and grow your nails.
A rich, but dry oil. Non-greasy, and deeply fortifying. This nail oil is a sure staple to use in-between manicures and to maintain overall nail health and integrity. 
Directions:
Apply a few oil drops to the nails and rub in. Ensure to apply on cuticle bed. Can apply to entire hand for overall moisture. Great for toenail care!
Key Ingredients:
Rosehip oil - rich in vitamin C that strengthens/hardens nails
Argan oil - increases blood circulation around cuticle beds, contains vitamin E to moisturize
Herb pedals - enriched with vitamins, minerals and antioxidants
Storage:
Place in a dry, cool, low-light area. Oils can degrade when exposed to sunlight, indirect lights, and/or water. Ensure cap is screwed on tight.
Full Ingredients

rosehip oil. argan oil, squalane (vegan), jojoba oil, sweet almond oil, superfruit blend, botanical pedals
Shipping

Please refer to our shipping policy column.
Return policy

Please review our return policy.
Simple Care

Handcrafted with natural ingredients. Results may vary and are not guaranteed.
Disclaimer

Disclaimer: This product is not acclaimed or promoted to diagnose, heal, or treat any skin or other medical condition(s). Consult with your Physician for proper diagnosis and medical treatment. Before general use, perform a skin patch test by applying a small, pea-size amount on wrist to check for reactions and/or other skin sensitives. Although ingredients are natural, products contain nut, plants and fruit oils. Consult with a Doctor if you suffer or believe to have nut, fruit and/or environmental allergies. Products are not to be consumed. Not FDA approved.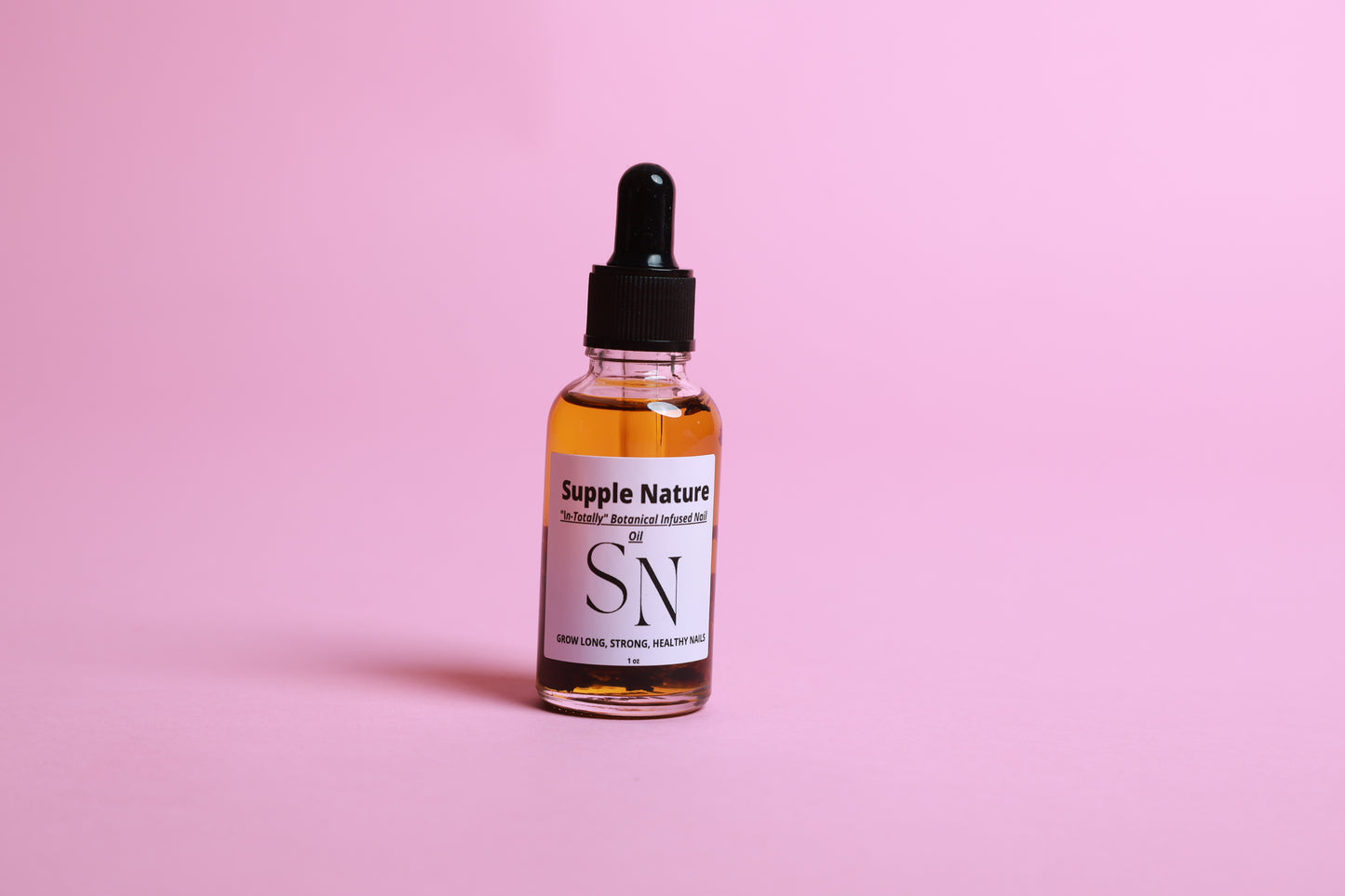 Best Natural Nail Oil
Over time going to the nail spa, my nails became very weak and soft. I was starting to be annoyed with the hang nails and breakage even with gel or sns application. I needed something fast. After using the infused nail oil for about a week, I noticed stronger and healthier nails. Wonderful product!
TOP NAIL OIL✨✨⭐️
I lost my entire nail due to poor nail care in the years of wearing acrylics. The rest of my nails were weak, brittle and extremely thin. I started using this infused oil, and now my damaged nail is growing in healthily. The rest of my nails are growing, they are strong and not bending, my nail beds are back pink and healthy, and my cuticles are nourished. I can tell quality, natural ingredients are used in this product. Best nail oil - highly recommend!!!