Body Nourishing Polish
Regular price
Sale price
$21.00 USD
Unit price
per
Sale
Sold out
This body scrub is a multi-punch! Infused with pure Himalayan salt, herbs and brown sugar that gently exfoliates, unclog pores, and lifts dead skin cells. Enriched with natural nut butter, fruits and herbs to restore moisture, protect the water barrier, fight skin damage and optimize dermal production. Contains vitamins, fatty acids, and trace minerals to nourish the body as well as antibacterial and antiseptic properties to cleanse the dermis.
Exfoliating stimulates the lymphatic system, so feeling refreshed and relaxed after using this polish is common! May increase muscle relaxation thanks to the presence of trace minerals in the Himalayan salt.
Key Ingredients:

Shea butter - provides deep moisturization

Himalayan salt - gently exfoliates, calms muscles, contains trace minerals to support the skin
Turmeric - brightens dark spots, anti-inflammatory, cleanses/exfoliates
Chamomile oil - calms skin and soothes skin, tightens pores, regenerates dermis, support cell turnover
*Suggestion: use the Exigent Body Butter or Bod-ly Hydration Oil afterwards to seal in moisture.
Caution:

Contains turmeric; thoroughly rinse body, shower and counters with warm water to avoid stains. 
Full Ingredients

Shea butter, Himalayan salt, brown sugar, turmeric, calendula oil, chamomile oil, passion fruit, rosehip oil, neem oil, superfruit blend, coconut oil, honey, jojoba oil, tamanu oil, fragrance (lemongrass, frankincense & tea tree essential oil)
Shipping

Please refer to our shipping policy column.
Return policy

Please review our return policy.
Simple Care

Handcrafted with natural ingredients. Results may vary and are not guaranteed.
Disclaimer

Disclaimer: This product is not acclaimed or promoted to diagnose, heal, or treat any skin or other medical condition(s). Consult with your Physician for proper diagnosis and medical treatment. Before general use, perform a skin patch test by applying a small, pea-size amount on wrist to check for reactions and/or other skin sensitives. Although ingredients are natural, products contain nut, plants and fruit oils. Consult with a Doctor if you suffer or believe to have nut, fruit and/or environmental allergies. Products are not to be consumed. Not FDA approved.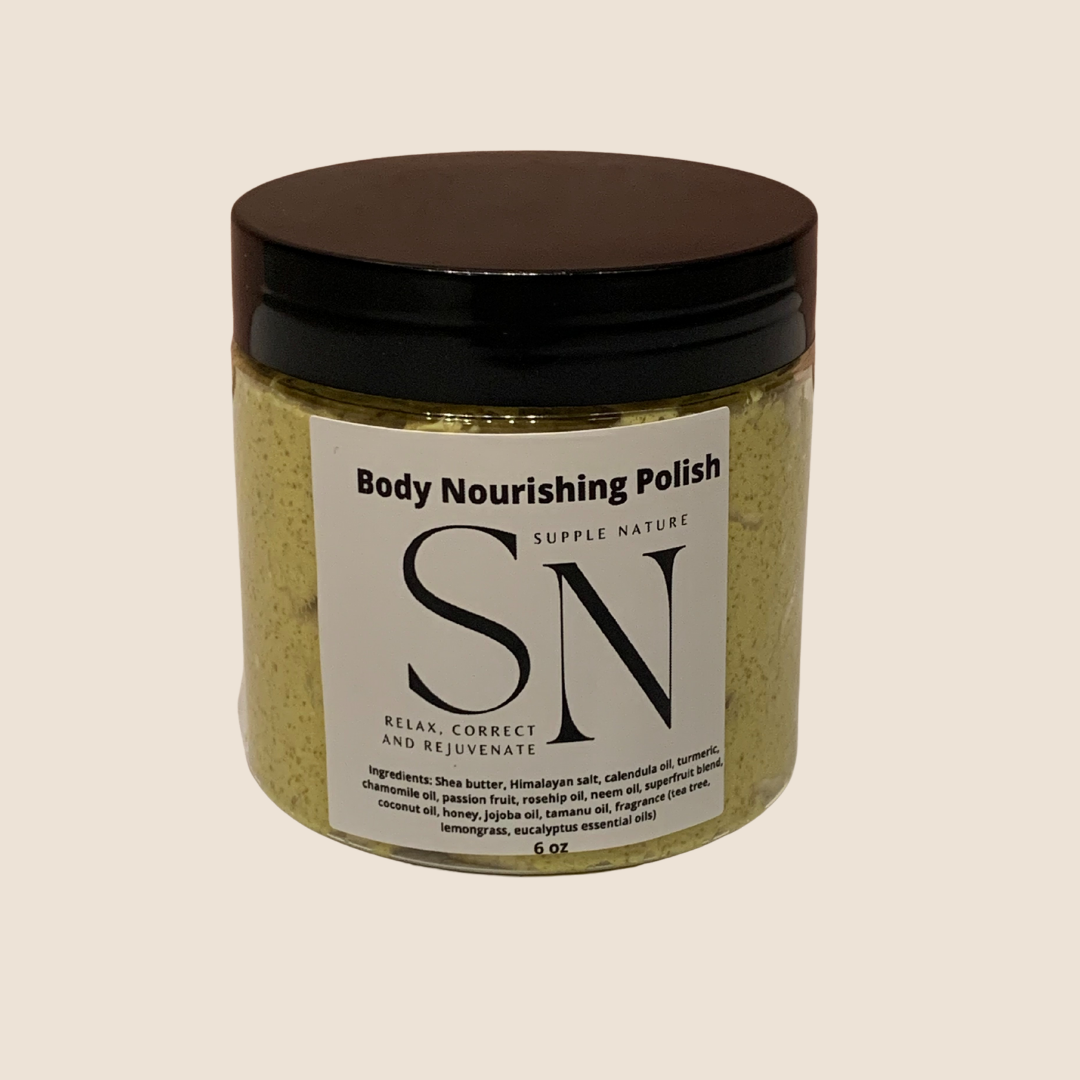 This is my favorite product thus far. It leaves my skin feeling clean and smooth. I noticed a difference in my skin complexion since using this product. It scrubs away my deep skin cells.
OMG best hydrating body scrub EVER
I instantly fell in love when I used this body scrub. My skin was smooth and hydrated after using the scrub, I didn't even want to use anything else. I highly recommend the use of this product. You will never want to use another scrub again!!
Best body scrub
I absolutely love this body scrub! It leaves my skin so soft and hydrated. I Leave it on for a bout 5 minutes then rinse leaving my skin moisturized and glowing. Highly recommend!