Exigent Body Butter
Regular price
Sale price
$18.00 USD
Unit price
per
Sale
Sold out
Indulge your skin with this light, fluffy whipped body butter. This luxurious butter contains natural botanical, nut and super fruit ingredients. Formulated with quality ingredients to enrich the skin with essential nutrition and moisture. Excellent for all skin types, including problematic skin conditions. Non pore clogging and non-greasy. Long-lasting hydration. Provides ultimate smoothness and suppleness.
A body butter that does it all: corrects, hydrates and smooths the skin
Directions:
Apply to clean, dry skin. Use a generous amount on entire body. Apply a thin layer on face. Excellent for everyday use.
*Suggestion: ensure to bathe with a hydrating body wash
Key Ingredients:
Shea Butter – moisturizes, softens skin, reduces inflammation, great vitamin and mineral ratio, promotes wound healing 

Kokum Butter – restores skin elasticity and moisture barrier, absorbs easily, soothes inflammation
Chamomile oil – calms skin, enhances complexion, regenerates skin, tames inflammation, moisturizes, great antioxidants, fades dark spots
Calendula oil - deeply moisturizes, soothes skin, supports wound healing, relives skin inflammation
Storage:
Keep container sealed tight to prevent air and moisture from interfering with the butter's consistency and shelf-life. Place in a dry, cool and low-light area. Do not expose to direct light, sunlight or heat as product will melt.
Full Ingredients

shea butter, kokum butter, squalane (vegan), calendula oil, camilla oil, chamomile (infused in extra virgin olive oil) oil, sweet almond oil, superfruit blend (customized), pumpkin seed oil.
Shipping

Please refer to our shipping policy column.
Return policy

Please review our return policy.
Simple Care

Handcrafted with natural ingredients. Results may vary and are not guaranteed.
Disclaimer

Disclaimer: This product is not acclaimed or promoted to diagnose, heal, or treat any skin or other medical condition(s). Consult with your Physician for proper diagnosis and medical treatment. Before general use, perform a skin patch test by applying a small, pea-size amount on wrist to check for reactions and/or other skin sensitives. Although ingredients are natural, products contain nut, plants and fruit oils. Consult with a Doctor if you suffer or believe to have nut, fruit and/or environmental allergies. Products are not to be consumed. Not FDA approved.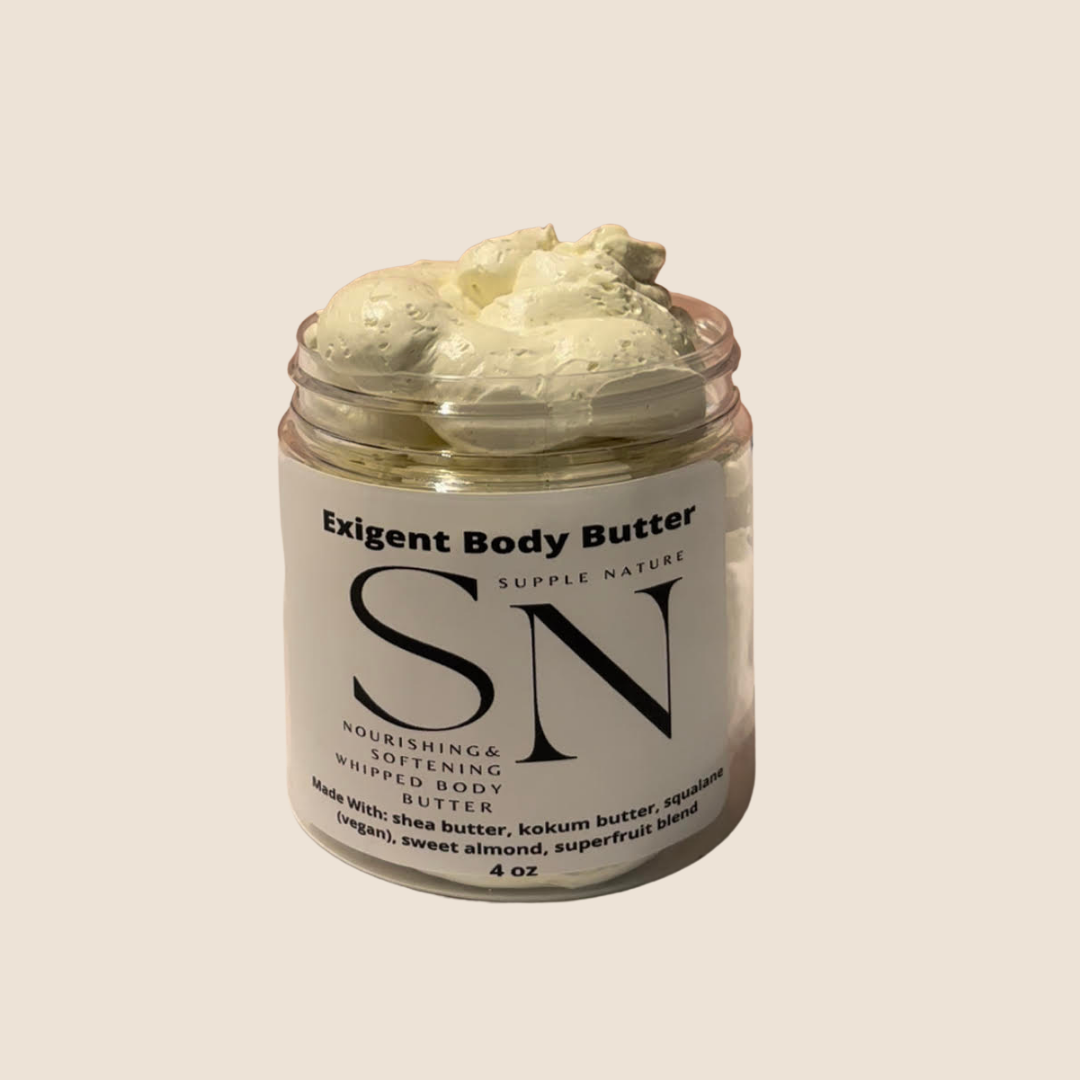 Best Body Butter
I also tried the Exigent Body Butter. This light souffle wasthe perfect balance. It immediately softened, left a light feel and I even used to to finish healing my new tattoo!