Bod-ly Hydration Oil
Regular price
Sale price
$25.50 USD
Unit price
per
Sale
Sold out
This botanical, nut and superfruit blend is luxurious and nutrient rich. Formulated with quality ingredients that soothes inflammation, balances skin complexion, boost collagen production and promotes long-lasting hydration. Components are unique and hold natural amounts of antioxidants, vitamins, minerals and balancing fatty acids.
Directions:
Apply a general amount to body.  Can use in combination with a desired moisturizer. Use daily for best results. For dry skin, apply morning and night. For facial use, apply a thin layer on the affected facial area.
REMINDER: water and oil do not mix - towel dry, then apply on dry skin!

Key Ingredients:

Pumpkin Seed oil - rich in vitamin C & E & A, sterols, carotenoids (antioxidants), accelerates wound healing, boost collagen, anti-inflammatory, evens complexion
Calendula oil - deeply moisturizes, soothes skin, supports wound healing, relives skin inflammation
Baobab oil - anti-inflammatory, moisturizing, protects water barrier, softens skin, repairs skin barrier, nutritional minerals and balancing fatty acids
Storage:
Place in a dry, cool, low-light area. Oils can degrade when exposed to sunlight, indirect lights, and/or water. Ensure cap is screwed on tight.
Full Ingredients

Squalane (vegan), almond oil, shea nut oil, avocado oil, baobao oil, rosehip oil, sunflower oil, camellia oil, calendula oil, date oil, jojoba oil, argan oil, pumpkin seed oil, superfruit blend
Shipping

Please refer to our shipping policy column.
Return policy

Please review our return policy.
Simple Care

Handcrafted with natural ingredients. Results may vary and are not guaranteed.
Disclaimer

Disclaimer: This product is not acclaimed or promoted to diagnose, heal, or treat any skin or other medical condition(s). Consult with your Physician for proper diagnosis and medical treatment. Before general use, perform a skin patch test by applying a small, pea-size amount on wrist to check for reactions and/or other skin sensitives. Although ingredients are natural, products contain nut, plants and fruit oils. Consult with a Doctor if you suffer or believe to have nut, fruit and/or environmental allergies. Products are not to be consumed. Not FDA approved.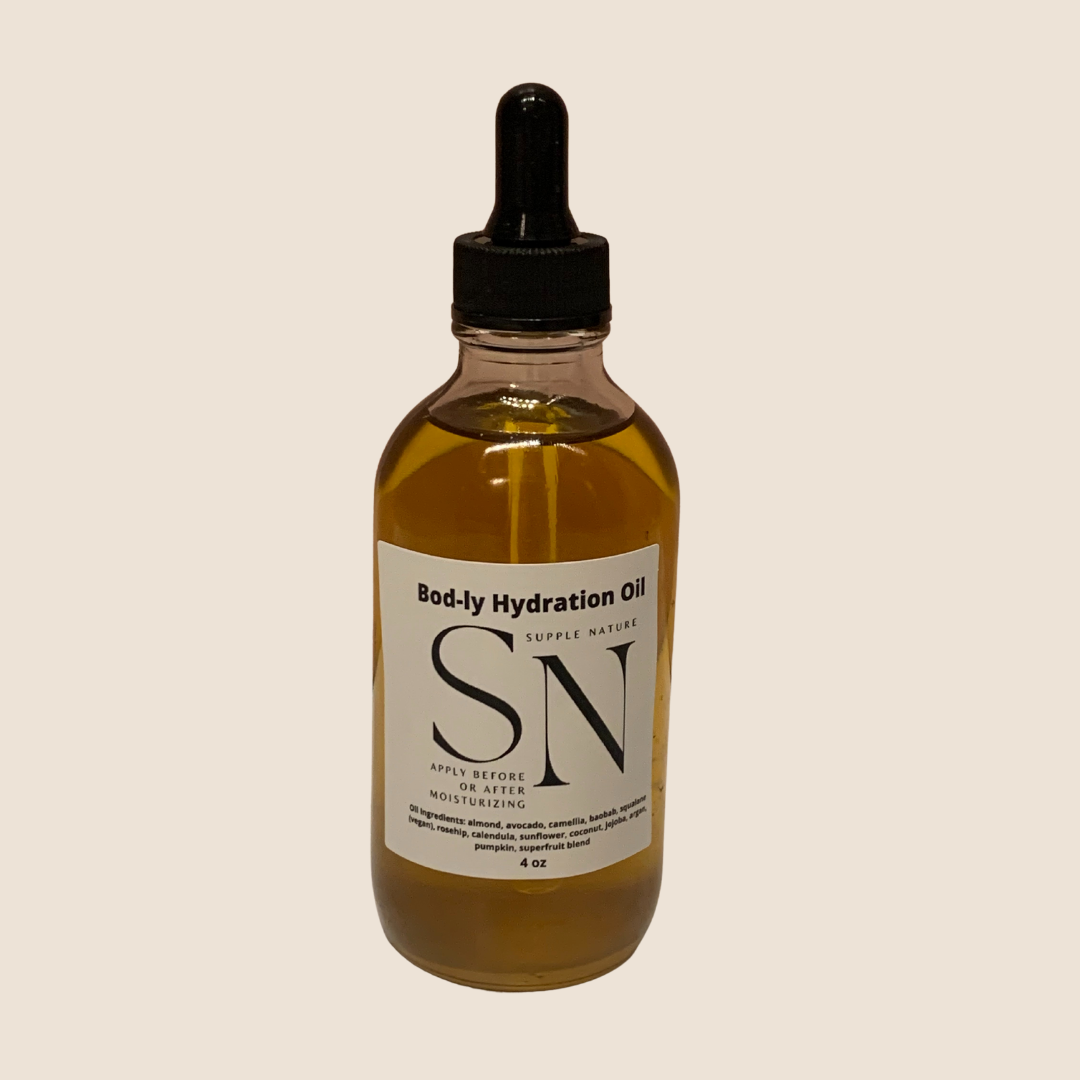 Miracle in a botte........I'm soft nowadays
I only need to use this once a day because it works that good. The oil absorbs nicely into my skin and I don't feel greasy. It's a great alternative to the heavily perfumed lotions you buy at ____________.
Oh, and did I mention how much you get??? A lot. Can't beat the price. It will last you a long time I promise.
Get your skin right
This body oil has been a wonderful addition to my skin care routine. I use it twice a day, specifically on areas affected by my lichen and my skin feels hydrated and soft.
Say goodbye to being ashy
I have used this oil everyday twice a day since I bought it. Its light enough were you don't sweat it out yet still penetrats deep to keep your skin moisturized all day without feeling greasy. It mixes well with my body oil ( if you were body oil) with no overpowering smell. This is better than Vaseline or regular lotion. hands down my favorite product.